Installations view, Eigen +Art Lab, Berlin, 2017
Astrid neben mir, 2017, glazed ceramic, 19,5 x 43 x 16,5 cm
Suzanne, 2017, glazed and ungalzed ceramic, 19,5 x 67 x 19 cm
Blauer Besen, 2017, glazed ceramic, animals hairs, 7,5 x 106 x 10 cm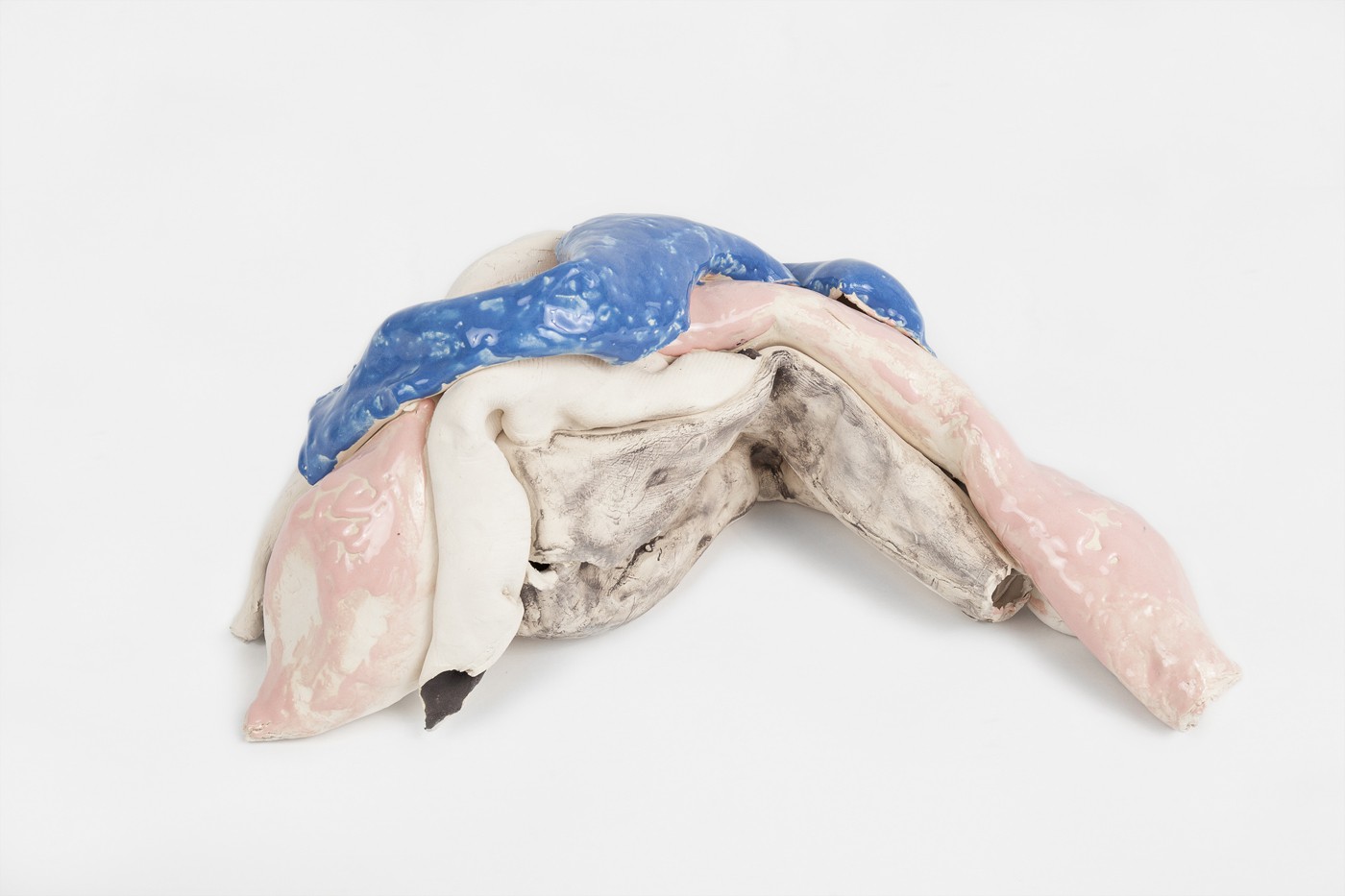 Laura im BBK, 2017, glazed ceramic, 18 x 41 x 27 cm
Installations view, Eigen +Art Lab, Berlin, 2017
Die Putze, 2017, glazed ceramic, 36,5 x 66 x 60 cm
Installations view, Eigen +Art Lab, Berlin, 2017
Ecke mit Rosa, 2017, glazed ceramic, light bulb, cable, plasticwax, 76 x 68,5 x 56,5 cm
Ecke mit Silber, 2017, glazed ceramic, light bulb, cable, plasticwax, 81,5 x 64 x 68 cm
Ecke mit Gelb, 2017, glazed ceramic, light bulb, cable, plasticwax, 86 x 52 x 52 cm

Here in this exhibition, I have arranged ceramic piles on the floor as if they were swept away. The sculptures are glazed using a wiping technique that, when fired, gives the appearance of the sculptures being superficially cleaned. Cleaning, reducing, developing through subtraction, creating to give space for emptiness, "espacifier," tabula rasa, depriving, hollowing out, adding and removing until the process of removal becomes visible.
In the second room, the lamps as a start for a new construction ( a corner), there as signs of hope.

When you scrub, the shine disappears.

The glaze of ceramics is like the makeup of the skin, it clings to the irregularities.

Cleaning directs attention to the unspectacular. Is that a political act?

"I throw everything out." Karl Lagerfeld, 2016, on the significance of the trash can.

Excerpt from "Die Putze" by An Paenhuysen.